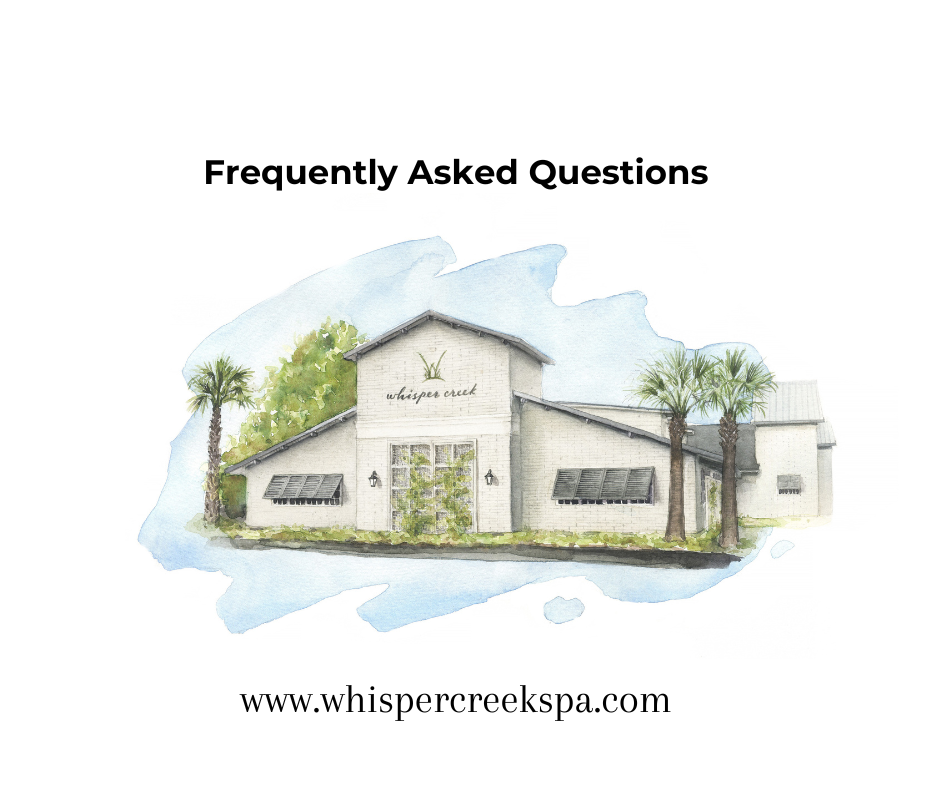 Frequently Asked Questions
What services does your luxury day spa offer?
We offer a selection of massages, body treatments, facials, hydrafacials, VIP nails services, as well as a salt meditation room experience. With each service you can expect to receive a private service room and relaxing lounge area you may relax in before and after your service. We offer a variety of complimentary champagne and wine options. You can expect a complimentary glass of your choice and a warm neck wrap after your service.
What's the easiest way to make a reservation for specific treatments or services?
The easiest way to book for one or two people is to go to our web site at www.whispercreekspa.com and click on Book Now.  You will be able to select your services, time and date and service provider.  We also provide prompts for add ons you may want to consider enhancing your experience. 
We also have a Mobile App you can download from your App Store: Whisper Creek Spa.  Booking is incredibly easy on the app and it saves and stores all your appointments & history to help you with rebooking. Because our app is made to enhance your personal booking experience, each person booking an appointment must download the app and create their own profile to book any appointments.
If you are looking to book services for 3 or more people for a group spay day, we recommend you email the concierge team with the names, date of services (or multiple options if you are flexibility), preferred services and times of day and then when we call you back, we will have several booking options available for you. You can email us at concierge@whispercreekspa.com.
You can also call our concierge team at 843.960.0100 for assistance in selecting and booking your appointments.
What are your spa's operating hours?
We are open Monday 10 AM to 5 PM Tuesday- Saturday 10 AM to 6 PM.  Beginning October 1, 2023, for a limited time, we will have afternoon availability on Tuesday and Thursday until 8:00PM. 
What is the cancellation policy for spa reservations?
For individuals, we request 24 hours 'notice to cancel your spa reservation.  We reserve the right to charge the full value of the service for no-shows or late cancellations.  For groups, we request at least 3 days' notice before cancelling groups of 3 or more individuals.  For larger group events including 8 or more services, we require a 1/3 deposit to hold the reservation.  The deposit is fully refundable up to 10 days prior to the event.
What if I arrive late?
We know it happens, traffic or something delays you from arriving on time or early enough to relax before your service.  Depending upon our schedule that day, if we can accommodate getting you the full time for your service, we will do everything we can to ensure you have a relaxing and complete experience.  However, if it is on a busy day and we are fully committed, your service time will be shortened to the time scheduled and you will still be charged the full amount of your service.  We hope you understand that we can't delay everyone after you and encourage you to give yourself plenty of time to arrive early so you can immerse yourself in our surroundings. 
Are there any age restrictions for spa guests?
We do not permit any children under the age of 16 to use our locker rooms, quiet lounges or receive massage, body treatments, facials or salt room experiences.  Children 16 and 17 require consent of a parent or guardian.  Infants and toddlers are not permitted in these areas even with a parent.  Teens aged 12 – 15 may receive nail services with a parent or guardian's consent. 
Is there a recommended gratuity or service charge for spa treatments?
Yes, we recommend a 20% gratuity if you are pleased with your experience.  Many guests choose to provide a more generous gratuity to thank our hard working team of therapists and experts for a pampering experience.  If you feel you have received exceptional service, additional gratuities may be left at your discretion.
What should I wear for my spa visit?
You should come comfortably dressed for your spa service.  For massage, body treatments and facials, as well as day packages and salt room experiences, we will provide you with a comfortable robe and slippers to use while enjoying our amenities and services.  For nail services and waxing, we do not provide a robe or slippers.
Are your therapists certified and experienced in providing luxury spa treatments?
Yes, all of our therapists, estheticians, and technicians are licensed and fully trained in the art of luxury spa services.  We continually monitor quality control and provide ongoing training and coaching of all of our team members to ensure a five-star experience for our guests. 
Do you have any special packages or promotions available?
Yes, we do have special promotions and packages.  We encourage you to follow our Instagram page for the latest offers & promotions. Our standard packages are also listed on our website menu.
Is there a recommended arrival time before my scheduled appointment?
For guests receiving a massage, body service, facial or salt room experience, we recommend you arrive at least 15 minutes prior to an appointment to get changed, relax and be ready for your services. If you'd like to use the infrared sauana prior to your service, we encourage you to arrive 30 minutes Prior to your scheduled service.
What amenities are available for guests to use before or after their treatments?
For guests receiving a massage, body service, facial or salt room experience, you will have access to our locker rooms with showers, infrared sauna, and relaxation lounges.  After your service, you will be offered a warm scented neck wrap and a glass of wine or champagne from our menu.  If you'd like to add a salt halotherapy meditation experience, we offer this for $45 for singles and $35 per person for couples. 
How soon can I receive a Prenatal Massage?
For our Seeds of love prenatal massage you must be in your 2nd trimester to receive this service.
How do you book a couples massage?
To book a couple's service, we ask that you call our concierge team to ensure this is booked for two people in a couples room.  You can call at 843.960.0100.  Please note that each person is booking a massage and will be charged per person.  We provide the couples room and our Whisper couples lounge complimentary for couples services. 
Do you offer day passes?
Yes, we do offer day passes for $95. This includes access to the locker room, use of the infrared sauana, access to the quiet lounge with a warm neck wrap, a 45 minute salt halotherapy meditation session and a glass of wine or champagne 
How do I book a group for services?
If you are looking to book services for 3 or more people, please email us at concierge@whispercreekspa.com for the best possible service.  This will allow us to evaluate your request and one of our group specialists will call you with options to make your group outing memorable.  Please include your name, phone number, if you are local or visiting from out of town, if you are celebrating something and the dates you are looking to receive services, as well as the number of people and services.  The more information you provide, the better we can serve you.  You can read more about group services here:  Plan Your Special Event — Whisper Creek Spa
Do you have group event spaces?
Yes, we have a large Ivy Beauty Bar for larger groups including lunches or group spa parties.  We also have a group lounge where groups of up to 15 people can gather in between services to enjoy wine.  We specialize in working with companies, as well as private parties such as wedding weekends, birthdays, family gatherings, golf outings or just spa day among friends.  You can contact our group specialists at info@whispercreekspa.com to learn more about our offerings. 
What is the cancellation fee for a group booking?
For groups booking 4 – 7 services, we require a 72 hour cancellation notice. For groups booking 8 or more services, we require a 1/3 deposit which is refundable up to 10 days before the event.  For groups of 4 or more services, we add a 20% gratuity for the group. 
We're booking a group event, but one of our friends or family members doesn't really like to get a massage or facial, are there other options?
Not to worry, this happens frequently.  Sometimes friends or family members aren't comfortable receiving a massage. We have VIP nail services including manicures and pedicures, rooms Or offer a relaxing foot and leg scrub and massage in our private nail rooms  Or, if your guest just wants to join everyone, we offer a day pass for $95 that includes access to locker room, lounges, infrared sauna and a salt meditation room experience. 
When should I use the sauna?
You can use the sauna before or after your services.  Our estheticians, however, do not recommend that you use the sauna after any facial treatment as the heat could cause an increase in skin sensitivity. 
Do you offer complimentary wine or champagne? What if I don't drink alcohol?
Yes, with all of our services, we offer a complimentary glass of wine or champagne from our menu.  We also have upgraded wines available for a fee.  If you don't drink or it's too early for you to enjoy a glass of wine, we have a selection of hot or cold teas, coffee, as well as juices and mocktails.  There is always fruit infused water in our relaxation lounges available to you. 
What if I get covid or am sick?
We understand that people get sick or become ill.  We do our part to help prevent the spread of illnesses by ensuring that our staff are healthy and well when they come to work.  If you are sick, please let us know as soon as possible that you will not be able to come in for your appointment. 
What if I miss my flight and can't arrive on time?
Here in the beautiful Hilton Head Island area, we know many of our guests are traveling in to enjoy the beautiful beaches and scenery.  A spa afternoon is the perfect way to enjoy your visit here, particularly if you are waiting to get in to a hotel room or rental.  We recommend that to fully enjoy your spa experience and avoid a cancellation fee that you don't book services with our providers within three hours of your flight arrival time.  We welcome you to book a day pass if you need more flexibility and want to enjoy the spa. We're also the perfect place to be before your return flight home so you leave relaxed and refreshed 
How can I buy a gift card?
If you need a gift card right away, it's quick and easy to buy one online and have it emailed to your recipient.  Go to whispercreekspa - Online Booking - GiftCards. 
Can I return a gift card?
No, gift cards are not refundable and not redeemable for cash or refunds.  You may use a gift card for any products or services, packages or day passes to the spa.
Are gift card promotions available online?
If we are currently running a gift card promotion and purchase a gift card online for the required amount, you may call us and ask us to set aside the gift for your recipient.  We will not ship or mail any promotional items even if you purchase the requisite amount for an online gift card.  You must notify us of your request for the promotion and have it picked up in person.  All gift card promotions are while supplies last. 
Can I call ahead and have a gift card promotion available?
Yes, you can call us to purchase a gift card and we will set aside the promotion for you to pick up at a convenient time. 
Will you mail gift cards purchased online?
No, we do not mail out gift cards. They must be picked up in person or purchased online using our online portal.
Can I substitute a gift card promotional item?
Generally, no we do not offer substitutions and all promotions are while supplies last and for a limited time.  If wine or champagne is part of the promotion, we will have a substitute item available for recipients or who do not drink alcohol. 
Do you offer curbside pick up?
Yes, we are happy to assist you with any retail or gift card purchases.  We don't yet have a full display of our retail online, but if you know you need to replenish items or recall an item you have seen before, we are happy to ring it up for you and have it ready to go and bring it out to your car. You can email us at concierge@whipsercreekspa.com or call 843-960-0100.  We will need a credit card on file for the purchase.  We hope to add more online shopping items soon including gift baskets. 
Is parking free?
Yes, we have a large free and convenient parking lot.
Is your blow out bar open?
Unfortunately, not yet.  As soon as we can staff it properly to serve our guests in the five star manner we have envisioned, we will open our Ivy Beauty Bar to include wash, blow out and style services, up dos, full makeup services, hair facials and more  If you know anyone with a cosmetology license in South Carolina looking for great opportunity, you can reach us at careers@whispercreekspa.com.